Tomas Pojar: Russia can only be stopped by force
Tomáš Pojar is the government's national security advisor. His task is to ensure cooperation and coordination of the activities of state authorities in the field of defence and security. Since 1995 he has worked for the non-governmental humanitarian organisation People in Need, after two years he became its director. Since 2005, he has served at the Ministry of Foreign Affairs of the Czech Republic as Deputy Minister for Bilateral Relations and 1st Deputy Minister for Security Affairs, EU Affairs and Bilateral Relations with European States. From 2010 to 2014, he was Ambassador of the Czech Republic to Israel. He is also a teacher. From 2014 to 2022, he was the Vice-Chancellor of the CEVRO Institute, a private university. We invited Tomáš Pojar to the next episode of our discussion programme CZ DIALOGY, in which we dealt not only with security issues or the current situation in Ukraine.
Video: Interview with Government National Security Advisor Tomáš Pojar / CZ DEFENCE
Tomáš Pojar has been working as a government advisor for more than 8 months now and according to him, the period of preparation still needs to be included, which is more than one year in total. "I think that the way we responded to the war in Ukraine, the way we managed the European presidency, the fact that we are speaking abroad with a more unified voice as a Czech state, can perhaps be attributed to this new function and coordination, which takes place basically on a daily basis. These are joint meetings with other ministries, but also between us and the Office of the President of the Czech Republic, both in the times of President Zeman and in the times of President Paul. And I think it is evident. If we know what we want and say it in a unified way at various levels, we have a much better chance of achieving it or convincing all other parties that we are serious and that they should take us seriously," says Tomáš Pojar, whose work credits to date include, among other things, the summer visit of Ukrainian President Volodymyr Zelensky to the Czech Republic. In this context, we wondered when the right moment to start negotiating on peace issues would come, if ever. According to Tomáš Pojar, Ukraine knows that sooner or later it will have to negotiate, but it is trying to regain as much of its territory as possible, and we should support it in this. "The moment Ukraine itself comes to the conviction that the time has come when it is possible to negotiate peace with Russia, or even just a ceasefire, we should support it in that as well. But it should not be that it would be a negotiation under some dictate. After all, we ourselves experienced the Munich dictatorship. I say this, in particular, because such a dictate does not last very long anyway. We must support the Ukrainians as much as possible in their defence, which we are doing. At the same time, we will at some point support their negotiations. But they have to manage it themselves. They need to know that it is time to negotiate and of course they need the other side to do that," explains Tomas Pojar.
Along with the duration of the war in Ukraine, its high intensity and the growth of the Czech Republic's aid to Ukraine, there are also concerns about whether this course is sustainable. "I think it is sustainable. I don't know if the growth is sustainable, but the current intensity is certainly sustainable. Of course, at the moment, it is less about the weapons that our army has in stockpiles, although there are still some there, and we are waiting to get new weapons systems so that we can phase out the older ones, or move them to Ukraine," Tomas Pojar outlines and continues. How do we find funding for Czech companies to increase production, which in many cases is happening, so we can send the weapons they need to Ukraine."
The Czech Republic's assistance to Ukraine has been more than tangible and certainly not negligible from the beginning. "During the first 500 days of the war, on average, one cannon or one howitzer, tank or rocket launcher left here every day - just one piece of heavy equipment and 10 000 pieces of medium to larger ammunition. That is an impressive amount, and we want to continue to do that because we think it is necessary. We think it's good not only for Ukraine, but for us, because the Ukrainians are fighting partly for us as well and keeping Russia away from us. At the same time, I think this is a huge opportunity for Czech industry, which has seized this opportunity and we will support it," explained the Czech government's national security advisor.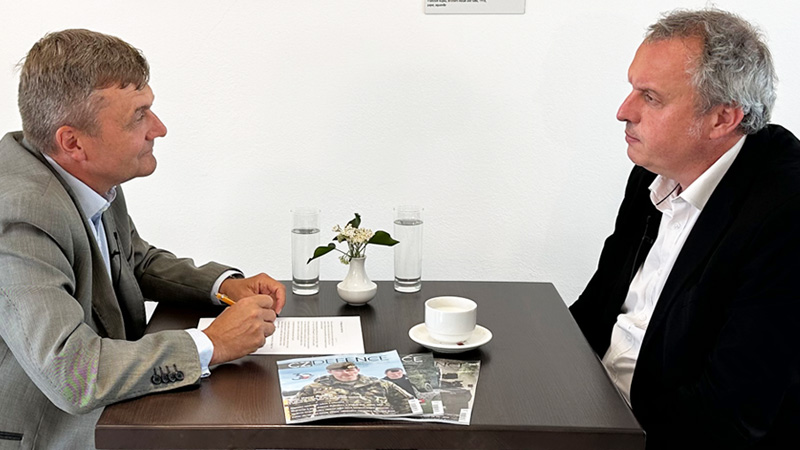 Picture: In this episode of our discussion show CZ DIALOGY, we talked to government advisor on national security Tomas Poyar | Michal Pivoňka / CZ DEFENCE
The position of security advisor is a standard position in the formats of the alliance governments, so it is important that these people communicate with each other, not only in the case of support for Ukraine, but also on issues of ceasefire, peace and post-war cooperation. "I think peace will come sooner or later. Maybe it will come rather later, before that hopefully there will be some kind of ceasefire. And of course it will be important for us where the ceasefire line will be. From our point of view, the further away it is from our borders, the better. It will be good for us if eastern Ukraine controls as much of its territory as possible. But we will see where that will be and how it will be. After all, from this point of view, the war started in 2014, so next year it will be 10 years since the occupation of both Crimea and parts of the Donetsk and Luhansk regions in the east. It will be important for the Ukrainians to start focusing on prosperity and security, building and flourishing the part of Ukraine that they control, during the ceasefire. And this part of Ukraine will then undoubtedly be able to negotiate its entry into the European Union and the North Atlantic Alliance," reflects Tomas Pojar.
We asked whether Russia can be stopped by peace talks at all. "Russia can only be stopped by force. It cannot be stopped by treaties or agreements, because Russia does not honour them, or rather it does not honour them when it feels like it or when it finds it convenient to stop honouring them. The Budapest Memorandum was agreed on Ukraine and Russia has trampled on it. Russia always wants more. So there it is once the Dnieper, once the whole of Ukraine, then they talk about the whole of Central Europe. Simply, Russia is an imperial power, the Russian soul is the soul of empire, and empire must by definition expand. It can expand unsuccessfully, but the tension must be there, because the moment it stops, I think it implodes and the state ends," says Tomas Pojar: "It is not absolutely necessary for Ukraine to control every inch of its territory in order to join the EU or the North Atlantic Alliance and to cooperate more closely with Ukraine. After all, the Federal Republic of Germany joined the EU and the North Atlantic Alliance. East Germany (GDR) was part of the Soviet bloc at the time and yet it worked. And by the way, it was a stabilising element during the Cold War. Fortunately, the western part was the victorious part, so freedom - not Soviet terror and totalitarianism - prevailed," concludes Tomáš Pojar, the Czech government's national security adviser.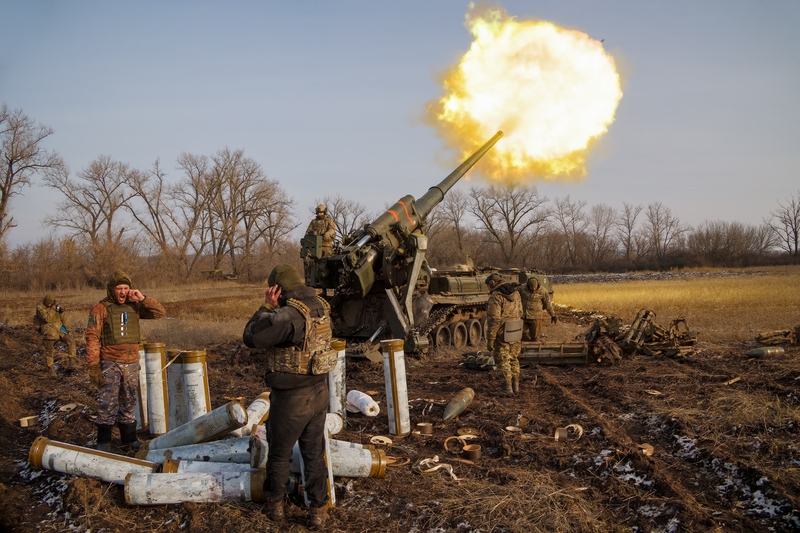 Picture: "Russia can only be stopped by force. It cannot be stopped by treaties or agreements, because Russia does not honour them, or rather, it does not honour them when it feels like it, or when it thinks it is convenient to stop honouring them," says Czech Government National Security Adviser Tomáš Pojar (illustration photo) | Shutterstock
In the war in Ukraine, the influences of other powerful states and economies are increasingly emerging, albeit not in an entirely primary way, where support from Russia or, conversely, Ukraine can either significantly extend or shorten the period of fighting. "Of course, many are trying to take advantage of this. Iran clearly supports Russia and is trying to build a fairly strong alliance with Russia. With China it's much more complicated, they are basically sabre-rattling. China doesn't want to have Russia brought to its knees, but at the same time it sees that this war is not good for world trade and therefore not good for China's prosperity. At the same time, China is looking at possible precedents on its own territory, its own history, and this kind of stealing of a neighbour's territory. Each country is looking at this in the light of its own experience. With regard to how much it affects that particular country, how high the costs are – whether it is refugees or other economic costs," Pojar says. However, according to him, nobody wants war. "But when there is one, everyone tries to manoeuvre as best as possible so that the result of the war is to strengthen influence, not to weaken the influence of each actor, i.e. international relations," says Pojar, who also points to Turkey's role as a member of the Alliance. "Turkey supports Ukraine quite strongly, both militarily and by exporting Ukrainian grain to the world. At the same time, Turkey is negotiating with Russia and is playing exactly the kind of game to come out stronger in the end, to be dealt a better hand than before the invasion. And from its point of view, I think it is not doing it wrong. Although, of course, Turkey is also allowing sanctions to be circumvented to some extent, and we need to have a very serious discussion with Turkey about this. We need to talk openly about where we agree and agree and where we do not. We have to argue and not stick our heads in the sand," the Czech government's national security adviser described the situation.
In the course of the interview with Tomáš Pojar, we further discussed the issue of disinformation and its impact on Czech society. We also discussed the global and territorial changes that the war in Ukraine may bring and we also talked about how the Czech Republic's position within Europe and the Alliance has changed after it was among the first to clearly take the side of the invaded state. To learn more, listen to the full interview at the top of this article.